Hi everyone , Hikari here ! I wasnt sure what to write for this prompt. But then I thought to myself I will just write about some of my recent watches or reads because that plays a big role in taking care of my mental health.
Prompt:
If we don't take care of our minds and souls, we will always be in pain. 
For the past few months, things have been pretty hectic. Everyone's lives have changed to some degree, and we can't help but feel anxious, nervous, and overwhelmed. This month we will be focusing on ourselves and keeping a strong peace of mind with our theme, "Mindfulness." We will be analyzing characters that have crafted and practiced their own philosophy on life and have spread their beliefs to others. We will also be talking about habits, hobbies, and things that are keeping us sane, positive, and peace within our souls. 
Examples:
Avatar – Aang and Uncle Iroh
Mr. Miyagi – The Karate Kid
Kisuke Urahara – Bleach
GAKUEN BABYSITTERS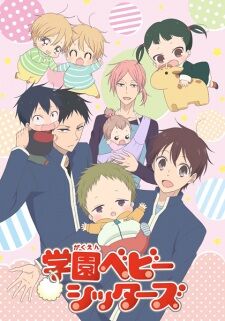 Description– After losing both parents in a fatal plane crash, teenager Ryuuichi Kashima must adjust to his new life as the guardian of his younger brother Kotarou. Although Ryuuichi is able to maintain a friendly and kindhearted demeanor, Kotarou is a reserved toddler still too young to understand the reality of the situation. At their parents' funeral, they are approached by Youko Morinomiya, the stern chairman of an elite academy, who decides to take them under her care.
However, there is one condition Ryuuichi must fulfill in exchange for a roof over their heads and enrolment in the school—he must become the school's babysitter. In an effort to support the female teachers at the academy, a babysitter's club was established to look after their infant children; unfortunately, the club is severely short-staffed, so now not only is Ryuuichi responsible for his little brother, but also a handful of toddlers who possess dynamic personalities.
This is my current watch ,its filled with so many heartwarming scenes between not just Ryuichi and Kotaro as brothers but between other parents and children and also school friends. I am in love with this anime. If you are looking for a pure , heartwarming scenes this one is for you !
HONEY SO SWEET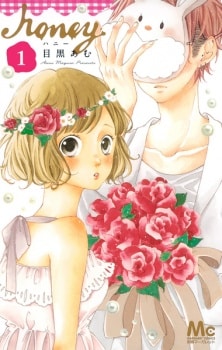 Now this is written by a mangaka Meguro Amu. It was her first bigger work. I only read the 1st volume so far on Comixology so far but I am already invested in the story.
Description- Little did Nao Kogure realize back in middle school that when she left an umbrella and a box of bandages in the rain for injured delinquent Taiga Onise that she would meet him again in high school. Nao wants nothing to do with the gruff and frightening Taiga, but he suddenly presents her with a huge bouquet of flowers and asks her to date him—with marriage in mind! Is Taiga really so scary, or is he a sweetheart in disguise?
This is as it says a high school romance , the way it does its characters is fantastic, my favourite is Onise for sure ! The difference between his looks and his personality is mind blowing as it is shown in this first volume. I would recommend this shoujo manga to anybody .
ARTE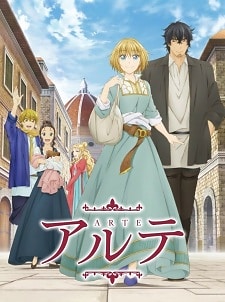 And for last but not least I picked a seasonal watch for Spring 2020. It still has 2 episodes to finish though.
Description-
In the 16th century, the city of Florence booms with cultural and creative revival in celebration of the Renaissance. Arte, a delightful young lady from an aristocratic family, dreams of being an artist and contributing to the renewal of civilization. However, with her father's death, she ends up losing the only person who believed in her passion for art. Now she is expected to marry a nobleman and live as a refined housewife without disgracing her family name. Reluctant to accept her fate, the headstrong Arte steps into the streets in search of a master artisan to take her on as an apprentice.
In her quest for a mentor, Arte has to face harsh reality when she is completely shunned for being a female artist. No one believes that women are capable of fine craftsmanship, and therefore none are willing to accept her. Luckily, a renowned artisan by the name of Leo is persuaded to take her as his disciple since he has none anyway. And thus, Arte's new life begins, far from the comfort of her noble upbringing. As an apprentice, she must earn her keep while tackling various challenges along the difficult path to becoming a full-fledged, master artisan.
Now this one I found to be a historical story about a young woman figthing the society to achieve her dreams and become an artist. It is really inspiring ! I like the later episodes especially. I think all of us women would find something to relate to and inspire us to keep fighting for our goals and dreams.
And that is all for my post for OWLS this month. I had much fun writting this one , I usually like to share my current anime and manga so if anybody has already seen them or read , please leave your thoughts in the comments.
Check out Matt from Matt In The Hat post and upcoming one is Takuto from Takuto Anime Cafe , look forward to his post on 13th.
Thank you very much for reading my post and I hope you enjoyed it , look forward to more content coming soon.
Till next time Hikari !