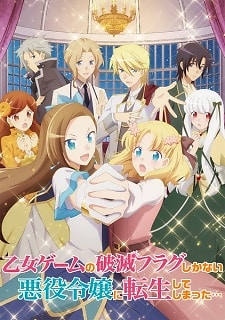 This month OWL theme is adapt . So I choose the airing anime My Next Life as a Villainess: All Routes Lead to Doom! .
Now this is isekai anime about a girl who is an otaku in modern world and dies. As she is reborn in the game of Fortune Lover , the same otome game she played when she was an otaku. Usually you would want to be reborn as heroine but our MC has it backwards she is reborn as a villainess Catarina Claes who gets killed or exciled in every scenario in the game.
Catarina makes it her goal to survive no matter what. At first she is a child and has a weak earth magic only capable creating a bump in earth.
Now I am going to make a list of other characters. This is all about how Catarina adapts into her new life and becomes the heroine .
STUART GERALD
He is the first prince of the country , a flame magic user and Catarina future husband. She through an accident becomes engaged to him . But he is a character that is a bit different than he seems on the outside.
MARY HUNT
She was Catarina first female friend and she is engaged to a prince too. She was really lonely at first but after becoming Catarina friend turns more cheerful and even helps with the farm Catarina started back home.
KEITH CLAES
He is Catarina little brother . He was adopted by Claes family and has strong earth magic. Usually he becomes a playboy in the game but that is changed.
ALAN STUART
He is Gerard little brother , a prince , Mary is engaged to him and he is a water magic user. He used to be Catarina rival in childhood but falls for her as they grew up but is kind of dense.
SOPHIA ASCART
Is a girl who is said to be cursed because of her white hair and red eyes and is often bullied because of it. She is shy but becomes much more self-confident after becoming Catarina friend because of their love towards romance novels. She has wind magic.
NICOLE ASCART
He is Sophia older brother. He is very quiet and protective of his sister due to bullying. Nicole has wind magic like Sophia and is in love with Catarina.
MARIA CAMPBELL
She is the original heroine of the game. She has rare light magic and is a commoner. Catarina defends her from bullies and becomes friends with her. Her hobby is sweets making.
Now this was my first OWL post in a while and I hope you enjoyed it . This is a great anime and I recommend it to otome game fans. Love you guys !
Check out NERD RAMBLES post which came out on 14th of May and check out Pinkie post on May 16th !